RMDS: Peter's Top Albums of 2006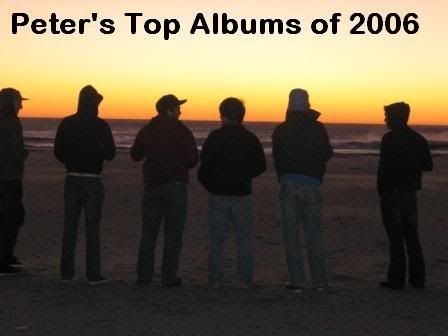 Well, this has been a whirlwind of a year for me, as far as "indie music" is concerned. Most of you loyal(right?) readers out there would have laughed at my iTunes at the begginning of 2006, as my indie cred was little to none. But thanks to a few friends (cough Jeff and Joe)I was able to get hooked up with all the good stuff I'd missed throughout the years. I spent most of the early months of the year enjoying the best stuff of 05, and by the time summer hit I was sucked into everything and anything '06. Blogs, leaks, and "lists" soon became the fixation of my thoughts. 2006 led me through many phases; my Joe-induced folk phase started it all, but soon transitioned into a summer phase filled with overflowing amounts of happy indie pop, and finally finished with a phase that included an all out love affair with dance beatz. I still love it all though, especially the "pop" as my list will indicate, but I'd say my tastes as a whole have become more ecclectic (I'm so trill), despite my innabilty to get through even one track on Scott Walker's The Drift - I'll keep trying though Jeff! So with that all said, here's my Top Albums of 2006, accompanied with my favorite song (sorry no mo3 as my bandwith has been exceeded - ugh, I said I'm sorry, geez), my favorite lyric from said song, and a mostly short write-up. Welp, Enjoy, and we will see ya on the other side.
--------------------------------------------
15.
Annuals
-
Be He Me
Dry Clothes:
"Well Missy, sure you can look through my drawers. I've got nothing to hide. So, crying soul don't you tally the toll because where's the love in counting?"
For the longest time I insisted that this album was good, but front loaded, and therefore not worthy to make my top albums cut. But my boy Casey kept on bugging me to give it more of a chance; and sure enough, I did, and he was right. And although Casey still maintains "Complete or Completing" is the album's standout, I can't shake myself from LOVING the 2:00 minute mark on Dry Clothes, when the lid flies off, and the Annuals pour out every drop of energy left in their skinny little adolescent bodies, shouting the above lyric…ya, it's infectious, you know it.
14. The Pipettes
-
We Are The Pipettes
Pull Shapes:
"Dance with me, pretty boy tonight / Dance with me, and we'll be alright / There's a whole floor before us, just for you and me / So follow my lead, and we'll 1-2-3 / Pull Shapes…"
I don't think I could ever meet the Pipettes. I'd absolutely melt. Hands down the cutest album released this year. This album is sassy, fun, and dance worthy – in a 50's sock hop kind of way. Come to the U.S. ladies– like, now.!
13. Destroyer
-
Destroyer's Rubies
Rubies:
"All good things must come to an end, the bad ones just go on forever…"
Who knows where this album would be on my list if I had gotten a hold of it earlier than October! Although Bejar's crashing guitar riffs can sometimes wear on me, I force myself to sit through it solely for those beautiful moments of soaring bliss, which appear in almost every song. "Rubies" is the perfect example of this (and one of my favorite songs of the year); specifically at the 4:07 mark: pure bliss…ahhh, sooooo good.
12. Ratatat
-
Classics
Montanita
"Raaaaar" (From "Wildcat")…that's a joke. Har Har.
Who would have thought such a presumptuously titled album would almost live up to its name. The beats are funky fresh and the guitars are twangy, shimmering goodness. This album is like the printers these days that allow you to print, photocopy, scan, and fax: I could always wake up to it, dance to it, or do homework to it. Oh, these guys blast the hell out of the speakers live too. Neeeeaaat!
11. Ben Kweller -
Ben Kweller
Sundress:

"Everybody's trying to be the best / What about the girl with loneliness / I like your sundress…"

Cheesy lyrics; perfect pop songs. Go ahead and make fun of me for liking Ben Kweller, I don't care!
10. Kite Flying Society
–
Where Is the Glow?
Love & Seagulls:

"All of the trees make music for me, as green as the grass leading out to the sea / And in that time, so quiet divine, the foamiest friend is mine.…"

This album is simply delicious; just look at that lyric above. Mmmm. Drawing straight from the playbooks of the Beach Boys, Rogue Wave, and The Shins, local San Diegans' Kite Flying Society released a debut record overflowing with sun kissed lyrics and breezy So Cal melodies. Where Is The Glow? was neck in neck with The Life Pursuit (see below) all summer long, vying for my "soundtrack of the summer" vote, and although they nearly missed, they still get mad props. Seeing these guys live outside on a sunny day in San Diego with a snow cone in hand was all I needed to solidify them in my top ten! I can't wait for the next album guys!
9. The Blow
–
Paper Television
Parantheses:
"…And when you're holding me we, make a pair of parentheses / There's plenty of space to encase whatever weird way my mind goes / I know I'll be safe in these arms / You're not a baby if you feel the world /All of the babies can feel the world / That's why they cry."
Aside from releasing my favorite track of the entire year (see above mp3 and lyric), The Blow's Paper Television delivers an all around assault to the musical senses, in the best way possible of course - filled with blips, bleeps, and the most charming, albeit sassy, pop melodies you've ever heard. I melt every time I listen to this album. Go ahead and take a listen, I guarantee you'll want to dance, cry, and smile all at the same time.
8. Phoenix
–
It's Never Been Like That
Rally:

"Standing in line, I think you're pretty / Lying on your bed, I think you're pretty too."

Probably the only pure "indie rock" album you'll find on my list, and even then, it's more "soft rock" than anything. Similarly to my #2's, these Frenchman don't miss on any of the ten tracks. In an indie music world where originality seems to be the only thing that matters, Phoenix reminds us that sometimes simple and solid is just as good. It's Never Been Like That is an instantly likeable album, overflowing with lyrics and guitar riffs that are bound to stick in your head.
7. Joanna Newsom
–
Ys
Cosmia:
"And all those lonely nights down by the river / Brought me bread and water, water in…"
…Similar to my number one album of the year, this only album has the ability to reach down, pick me up, and place me in a new world. When I close my eyes and listen to Ys I see dense wooded forests, and creatures I never knew were even fathomable. This album is something special and if I wasn't so ADD, this would have been higher on my list – at least I can appreciate it!
6. The Decemberists –
The Crane Wife
The Crane Wife 3:

"And I will hang my head, hang my head low…"

…The Decemberist's best album to date also proves to be one of the best of 2006. Colin Meloy orchestrates a perfect blend of "pop" and "epic" that never left my musical pallet thirsty. The bookend tracks alone, "The Crane Wife 3" and "Sons and Daughters" provide an awe-inspiring beginning and end for the wonderful songs found in the middle. This album is a diverse, winding, epic tale brought to life via Meloy 'n company. Well done, guys and gals, well done.
5. Josh Ritter –
The Animal Years
Girl In The War:
"Because the keys to the Kingdom got lost inside the Kingdom / And the angels fly around in there but we can¹t see them / I got a girl in the war Paul…"
…The saddest, most sincere album of all 2006. Josh Ritter is an artist who flew under a lot of radars, but his deep, emotional lyrics which breathe sincerity deserve attention. This album moves along like a somber narration of a story set in the Midwest, evoking a wide range of emotions, namely bitterness. With wonderful production to accompany these lyrical flurries, the often simple musical arrangements still managed to hook me on nearly every song. While it's evident Ritter doesn't have all the answers figured out regarding life and God, it is evident that he knows how to make an excellent, genre-defying album.
4. Belle & Sebastian –
The Life Pursuit
The Blues Are Still Blue:
"I've been creeping round this town because / Well, creeping's just my way (oh oh)…"
I'm not sure if I'm ready to jump on board with all the peeps saying this is Belle & Sebastian's best album to date, because I personally believe If Your Feeling Sinister is one of the greatest albums ever made. BUT, that does not mean that this isn't a damn fine record too, because it IS. Looking at the transformation of B&S from their early days to 2006's The Life Pursuit demonstrates what an amazing band they really are. To pull off such a change from their spacey, soft twee pop days, to a cohesive indie pop album is an incredible feat. I could go on all day talking about how much these Swedes impress me (and often consume my listening habits), but I'm just going to tell you that The Life Pursuit was THE soundtrack of the summer, and also, one of the very best albums of 2006 – no matter what way you look at it.

3. I'm from Barcelona
–
We're from Barcelona
Ola Kala:
"Have you ever felt that nothing's ever going your way? / Every good thing that you find is always running away"
I'm not going to lie, I'm pretty disappointed about how little end of the year respect I'm From Barcelona is getting. And don't think this album is up on my list to spite the haters (read Pitchfork) either, because We're From Barcelona has been nestled high atop my favorite albums list for quite some time. I think what's happened is people try to write these guys off as just another impractical and goofy twee pop outfit; and yes that's what it looks like on the outside, and sure 26 members isn't all that practical, but these guys take on a certain level of consciousness in their songs that is not seen in your average indie pop group. While, groups like The Boy Least Likely To (whom I love equally to IFB), blissfully recount childhood scenes as if they are still living in them, I'm From Barcelona takes a reflective and nostalgic approach, often lamenting about childhood misfortunes ("Chicken Pox") and realizing that they have to eventually grow up ("Rec and Play"). You are probably laughing in your chair at me right now, to even take indie pop this seriously, but that's the only way to do it – because they take themselves seriously. Anyways, because of this said consciousness within the lyrics, We're From Barcelona floats far above most pop albums; just listen to that chorus crash down in "Ola Kala" – don't be afraid, because everything is going to turn to be okay. I'm From Barcelona sees it from all angles, and that's what makes this album special: they can have fun and sing about tree houses, but deep down they realize they must grow up sometime, and it pains them – which despite what yawl may say, its pretty evident in every single melody and chord on this album.
2. Math and Physics Club
–
Math and Physics Club
Darling Won't You Please Come Home:

"I love it when the coals burn way down low / You slide up next to me, so sweet, so slow"

Of all the albums I listened to this year, this is the only one that happened to nail me at just the perfect time. See it was October, and I was living in San Diego, and the closest thing to fall you can get in SoCal is a cool ocean breeze. Being from Colorado, I was desperately craving the changing colors of leaves, and the smell of warm apple cider. Luckily for me, Math and Physics Club's self titled debut magically placed me in this fall wonderland that I had been longing for. Whether it was "Darling Won't You Please Come Home" putting warm butterflies in my stomach or "La La La Lisa" epitomizing every single crush I ever had, this album complimented by mood to perfection nearly every listen. To boot, this is one of the few albums that I constantly listen to as whole – my Itunes shows upper twenties play counts on every song! Well anyways, don't let my personal connection to this album fool you: MAPC's s/t does not disappoint on any of its ten tracks as it essentially perfects soft, twee pop. This is a seasonal spreading, love and loss focused, mind blowing debut – BUY IT!
1. The Knife
–
Silent Shout
Silent Shout:
"Yes in a dream all my teeth fell out / A cracked smile and a silent shout"
By now, this is of course the trendy pick for album of the year, but I could care less. I think this album is special because it came full circle on me. The first time I listened to it on a rainy afternoon this summer in my car I was weird-ed the hell out by the album's opener and title track "Silent Shout", even though at the same time I was very intrigued. As I probed deeper into the album in the fall I found myself dancing to "We Share Our Mother's Health" nonstop, and soon thereafter became enchanted with the mysteriousness of "Marble House." Every piece of this album seem to fall perfectly into place for me, until I literally couldn't get enough. No matter how many times I spin this album, I still always get taken to another world…and that's about as articulate as I'm going to be able to get on something I love as much as Silent Shout – my album of the year.
--------------------------------------------
Honorable Mentions:


(which on any given day could have made it into the Top 15)

Russian Futurists –
Me, Myself, and Rye
, M. Ward –
Post War
, Suburban Kids with Biblical Names -
#3
, Danielson –
Ships
, Damien Jurado -
Now That I'm In Your Shadow
, Regina Spektor –
Begin To Hope
, Lucero -
Rebels, Rogues & Sworn Brothers
, Rocky Votolato -
Makers
--------------------------------------------
Well, that's it for 2006 folks. It's been a great year. I've learned alot, and despite the half-assed nature of this blog, it really has been a good endeavor. Unfortunately I don't know if it will survive, being that I am going to be leaving for Spain for 5 months (from Jan 5th to June 7th), and to tell you the truth, blogging is going to be the least of my concerns! Well, maybe if you bug Joe enough, he might become the posting machine that I know he is deep down inside and RMDS will soon rival the likes of Pitchfork(quasi blog) and Sterogum. Scratch my hesitation, I'm sure of it. But regardless, it's been a fun time, and maybe I'll pick it back up this summer, who knows? Well, once again, have a Happy New Year, and don't forget to leave some comments. We lub 'um. Goodnight all.