Wolf Parade/Frog Eyes - Live at the Wiltern
Let me just start off by saying that Wolf Parade absolutely killed it last night at
The Wiltern
. The night could not have gone better as we were able to get right up front, sneak in my camera(shh), and listen to three kick-ass bands. Enjoy our first ever concert review at RMDS...


Whalebones

The night got off to a great start with opener
Whalebones
. They had a supremely confident stage presence and a blues/jam band type sound equally reminiscent of both
Black Mountain
and
Black Keys
. Now, that may sound like
Urban Outfitters
' answer to
The Grateful Dead
, but let me tell you, Whalebones was legit. The songs had claws, the guitars dropped bombs on my head, expect a post hyping them up to arrive very soon.


Frog Eyes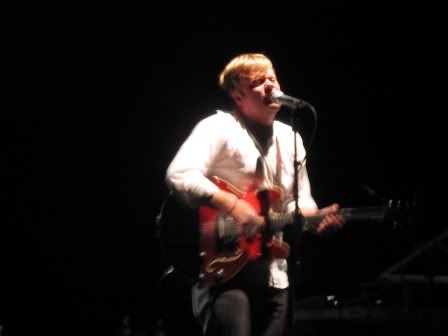 Frog Eyes
' set really brought out the worst in one of the most obnoxious crowds I've ever been a part of. They had some kickin' jams and a unique stage presence that ste
adily improved throughout the set. However, their music is not very accessible (say it ain't so), and even though we here at RMDS were very into their style, the set did drag a bit. Nevertheless, they kept it real, and Casey Mercer's
Black Francis
-esque showmanship accompanied with tweaked out solos and high energy deserved a much more respectful audience.



Wolf Parade



I'm not going to lie, I was somewhat apprehensive about Wolf Parade's live show. Of course, I love their recorded work, but it seemed like every live review I ever read of WP played them off as nothing special. Reviewers praised
Sunset Rubdown
and their live set, but seemed hesitant to give as much credit to Wolf Parade's show. Fearing Krug had over extended himself with all his other projects, I went into the concert hoping simply for a solid performance.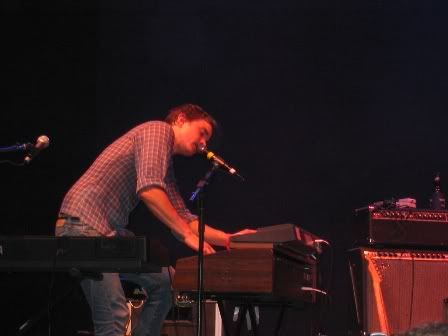 In retrospect, I shouldn't have been so timid about having high expectations. Wolf Parade came out firing. They blazed through the first half of their set with a barrage of seemingly effortless jams. One thing we really noticed about Wolf Parade's live performance was how many different influences and stylings they pull together to make their unique sound. Seeing
Spencer Krug
and
Dan Boeckner
alternating on lead vocals lead to a new appreciation for their recorded work. It is very easy to listen to

Apologies to the Queen Mary

and forget about the intricacies that went into the songwriting because it is so well produced. Wolf Parade pulls all of this musical meshing off with ease, all while managing to pack in a grip load of fun-filled energy.

The latter half of the set was to be particularly noted as it was practically perfect. "I'll Believe in Anything" procceeded directly by "This Heart's on Fire" was enough to leave us both in awe.


Other than that, we don't have much to say other than that you should definitly see Wolf Parade live if you are given the chance. Below, we have the setlist, accompanied with mp3's of our favorite songs of the night. Enjoy.



Setlist:



Things I Don't Know
(New Song) (mp3)
Shine A Light
Grounds For Divorce
It's a Curse
Dear Sons and Daughters of Hungry Ghosts
We Built Another World
You Are A Runner And My Father's Son/Fancy Claps
Modern World
(New Song)
(New Song)

I'll Believe in Anything
(mp3)

This Heart's On Fire
(mp3)

-Encore-
The National People's Scare
Dinner Bells