RMDS: Top Shows of 2006
Well, as promised, here are RMDS' top 9 (yes, we like weird numbers to accompany our lists) live shows of 2006. We were fortunate enough to attend a grip load of shows this year, and thoroughly enjoyed nearly all of them, despite the ridiculous amounts of money we spent to attend them. Welp, here they are, with all my splendid photography to accompany them. Enjoy, and as always, we love your comments - even if they say "Go eat a dick." K. Here:
9. Lady Sovereign / June 14 / The Fox - Boulder, Co
Sure, the S.O.V. gimmick has run its course by now, but this doesn't change the fact that she is a natural performer. Maybe it was the alcohol, but her between song banter alone, deserves her this spot on our top shows list. Oh, and "Random" was a treat as well. Don't hate.
8. TV On The Radio / September 25 / Soma - San Diego, Ca
-Original Review-

Although
Return To Cookie Mountain
never really captivated Joe and I like it did the rest of the blogging world, these guys know how to jam live. Distorted and loud noise aside, TVOR managed to deliver on every song; especially in their back to back performance of "Province" and "Wolf Like Me." Mmmmm.
7. AIH and The Blow / September 16 / The Epicentre - San Diego, Ca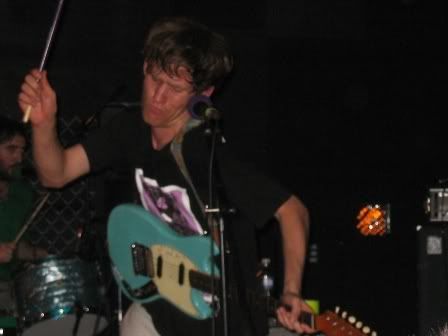 -Original Review-

Khaela from the Blow was as sassy and cute on person as she is on
Paper Television
, and despite not playing our fav "Parantheses," she still swooned and awed almost everyone there...Architecutre In Helsinki unleashed a set chock full of new songs on the unsuspecting audiance, and despite initial hesitations, it turned out to be the dancy goodness I had hoped for from the Aussies, just in a new and fresh kind of way. Yummmmmy...can't wait for their new album.
6. Iron & Wine @ Sasquatch / May 27 / The Gorge - Eastern Wa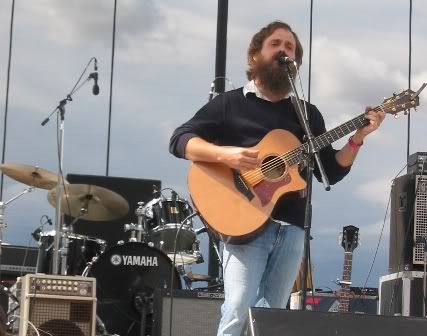 Sam Beam owned the stage that day. With looming thunderclouds hovering above, he whisped through most of the Iron & Wine catalog. The Gorge proved to be just the perfect setting for tunes such as "Trapeze Swinger," and Joe and I both agree that Beam delivered an unforgettful performance.
5. Cold War Kids / June 22 / Larimer Lounge - Denver, Co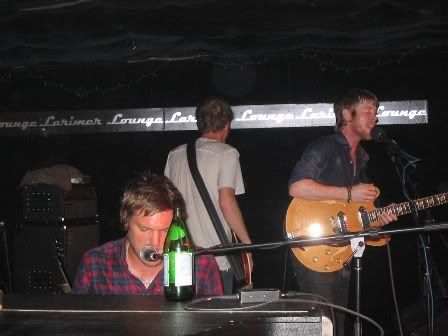 Ya, the inevitable 'Kids backlash is upon us. Even I turn up my nose when friends tell me how much they like Cold War Kids, but forgetting about this live set would be a crime. Although they had to open, CWK blew everyone else off the stage that night (Tapes and Figurines), as they doused every song with soul and energy.
4. Beck @ Sasquatch / May 28 / The Gorge - Eastern Wa
Maybe I'm biased because I was front row for this set, with thousands behind me, but this was a damn fine show. Beck demonstrated why he is an indie rock king, as he unleashed hits from his back catalog and at the time, the forthcoming
Information
. Oh, and do I really have to say anything besides "Puppets"? Nope.

3. The Faint, Ladytron, & Ratatat / December 7 / Palladium - Hollywood, Ca
The only "dance" or "electronic", if you will, show I've ever been too. And in a year, which saw my affinity for dance music ever-increasing, this was the climax. All three bands steamrolled through the hits ("Glass Danse", "Seventeen", and "Wildcat" - respectively), and when all was said and done, I was dripping in sweat due to the all out dance party that ensued throughout the night. Head and shoulders, the funnest show I've ever attended (It helps when you have 15 of your best friends there, btw!). Oh, the DJ's killed it in between sets too.

2. Wolf Parade / August 25 / The Wiltern - Los Angeles, Ca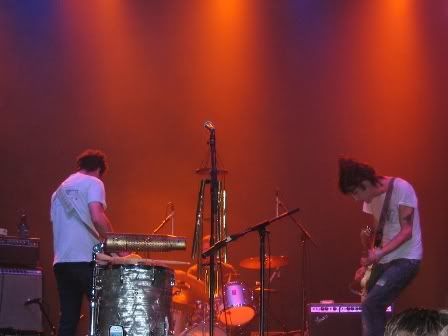 -Original Review-
The whole RMDS crew saw this one, and we all agreed: these Canadaian indie rockers absolutely destroy it live. Krug 'n company's electrifying stage presence was an incredible expansion to
Apologies
. I'd be hard pressed to find a band that rocks harder than these guys live.
1. Sufjan Stevens / October 9 / The Wiltern - Los Angeles, Ca
-Original Review-
Predictable? Cliche? Yes. And like with all the other hype and backlash that Sufjan amasses, he still always delivers. With a full horn and strings section, Suf gave new context to all the songs - mostly off of
Illinois
and
Seven Swans
. The highlight was of course "Majesty Snowbird," which we here at RMDS can't wait to here once it's done in the studio. The performance once again solidified what a dynamic singer-songwriter, and now performer, that Sufjan Stevens is. In a year full of good shows, this one stood on top for us at RMDS!


-------------------------------------
Well, that's it. I hope you enjoyed our choices and the pictures. Please leave comments if you'd like. Look forward to Mike, Joe, and I's year end lists in the next few days.