The Format/Anathallo - Live at Soma
Mmm, well so far RMDS is two for two on concerts this fall. As a follow up to our wonderful Wolf Parade/Frog Eyes escapade, last night we were treated to a show dripping with nostalgic pop bliss as The Format and Anathallo serenaded teenie boppers and bloggers alike in San Diego.

Anathallo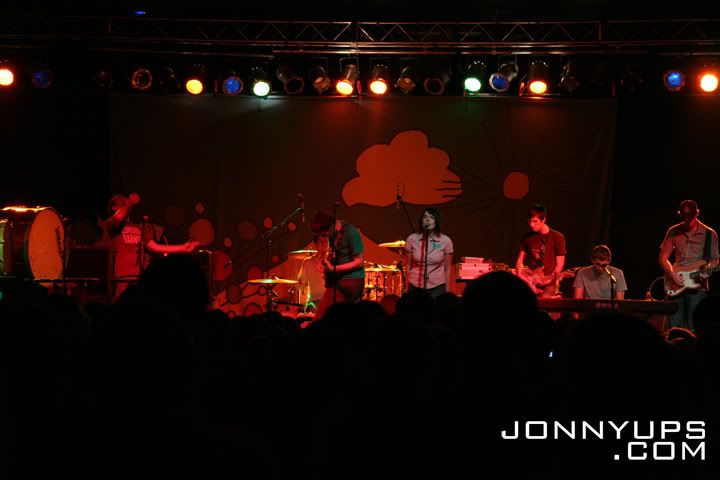 I have often listening to a band's hyped up album, enjoyed it, and then became completely dissapointed by a stagnant and dissapointing live show. This is what happened when I saw Tapes 'n Tapes last summer. And after listening to Anathallo's

Floating World

a couple of times through, I was already crossing my fingers, hoping I could avoid another TnT. And unlike the aeformentioned blog babies, Anathallo's performance was a nice expansion on their recorded work. With their members scattered across the whole stage, swapping instruments that ranged from glockenspiels to trumpets, Anathallo delivevered perfect pop in a genuine and accessible way. They were the perfect balance of innocent fun and serious musicianship. Definitely an appropriate warm up for The Format...



The Format



If you find yourself seeing The Format any time soon, chances are you will be a bit disconcerted at the site of 100,000 14 year old girls in the audience. True, the audience did not present a typical people-that-like-good-music demographic, but The Format kicked my cynicism's ass and melted my cold elitest heart with a set that...pretty much ruled. Every song was perfectly executed. Lead singer Nate Ruess threw in an impressive amount of rock star showmanship, and the song selection (see below) included a generous helping of tracks from
Interventions...
(8 to be exact!)
, that provided the nostalgia fix I was hoping for going into the show. But it wasn't a complete stroll down memory lane as The Format packed in the best of their poppy hits off of the summer release

Dog Problems

. All in all, it was a perfect mix.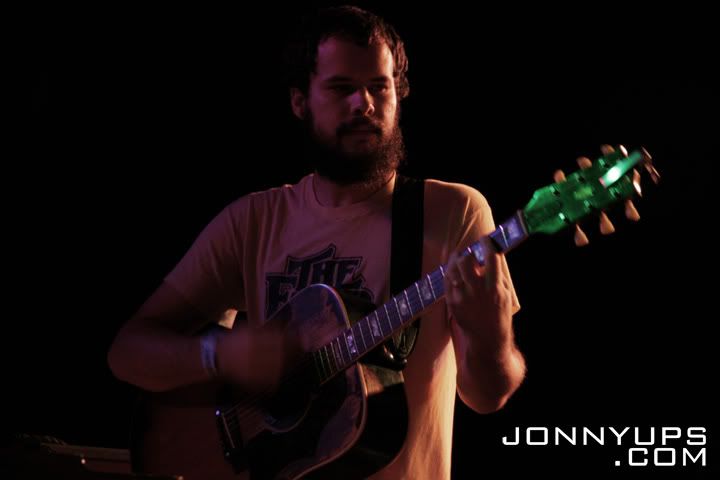 The Format knows their audience, they know that bombast sells and catchiness needs to be embraced, not avoided. They fill a very necessary role: the band that unites hipsters and their younger siblings through great pop songs. Usually only things like Christmas can do that in families torn apart by the opposing forces of the blogosphere and P!@TD.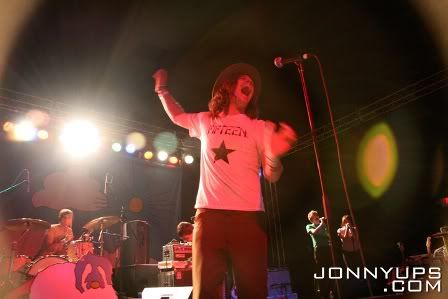 Setlist:


Dog Problems
First Single
Wait, Wait, Wait
Sore Thumb
Snails
I'm Ready, I Am
She Doesn't Get It
Tune Out
Give It Up
The Compromise
On Your Porch

-Encore-
Timbe Bomb
Tie The Rope

Special thanks to San Diego photographer Jonny Ups for allowing us to use his great photos. Check his site out here!