Orouni - In the old days...
First off, let me ask for your forgiveness. I have been a bad blogger lately. Other than having ridiculous loads of homework, I really have no excuses for the lack of posting. So anyways, please keep reading RMDS and we will try not to be so lousy. Cuz c'mon, we like you...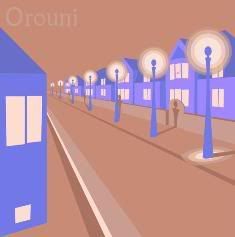 ....And we also like

Orouni

(named after Jack Kerouac's
On The Road
!!!). Demi, the man behind the genious of Orouni, is a Frenchmen from Paris. Almost all of his songs are simple arrangements, but his voice still manages to captivate me every time. His English lyrics accompanied with the soft taint of his French accent make every word seem like a sedative. I hear some Devendra Banhart, I hear some hushed pop goodness in my ears, and I think you will too. Enjoy...


-mp3-
Orouni
- In The Old Days Of Our New Life
Even the first time I heard this song, I knew there was something special about it. The intro is down right irrisistible; almost too simple to be
that
good. Just a piano and the simple strumming of a guitar lead you through the first fifteen seconds of the song. Whenever I hear it I think it should be in a movie. I'm not sure which one, but I know it would make the perfect backdrop in between scenes. Ahh, and if that's not enough, we have his voice. It's soft, endearing, and warm. The gentle lyrics are hushed straight from his basement to your ears; nothing is lost along the way. "Sometimes the wind will give you a chill / That's because you don't wear your scarf." Mmm, its fall.

Vote for this song on Puredemo!!!


Bonus...

-mp3-
Orouni
- The Lampost

Orouni's Website (Get More Songs Here!)
Orouni's Myspace

Orouni's Blog