I Heart SD, Kite Flying Society, and The Donkeys
Mmm. Southern California. The sun shines, the girls wear skirts, and even more importantly - the music resounding from the region these days is just as good as the the weather. At least this is the case for the new indie bands emerging out of San Diego.

As I spent hours upon hours sifting through blogs and bands during my summer in Colorado, I was delighted to find out that two of my favorite finds of the summer hailed from San Diego (Joe and I's new home for the school year). So, um, here they are...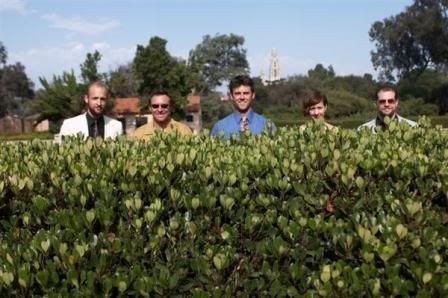 Kite Flying Society


After I heard these guys named their band after a scene in Wes Anderson's
Rushmore,
I was pretty much sold. Since hearing their debut album
Where Is The Glow?
it's safe to say the music is so good it
wouldn't matter if they had named themselves after this movie. Anyways, Kite Flying Society says on their myspace that their influences include The Shins and Rogue Wave, amongst others. Works for me. Although Beach Boys seem like a strikingly obvious, and complimentary, influence as well.


Where Is The Glow?
is the epitome of a summer time record. The incredibly poppy "Love and Seagulls" might as well be played on every oceanside boardwalk during the day. "Thick as Thieves" on repeat in your bobbing sailboat and "Groundflower" softly whispering through a field at sunset would be appropriate as well. Ugh. Just listen.

-mp3-
Kite Flying Society
- Love and Seagulls (Highly Recommended!)
-mp3-
Kite Flying Society
- Thick as Thieves
-mp3-
Kite Flying Society
- Grounflower

Check out their SD tour stops and merchandise here...

KFS on Myspace
KFS's Website

------------------------------------------------------------------------------------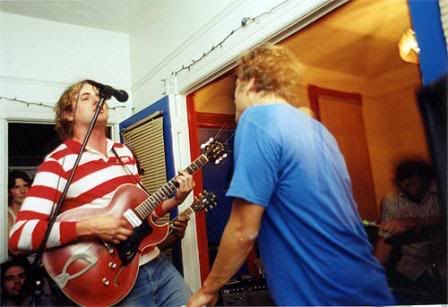 The Donkeys


The Donkey's are just a few guys living in a basement. They sleep amongst their instruments and occassionally drink water. Some nights people will even come to that basement to hear them play their wonderful mix of indie folk and blues.

I'm kidding, but their pictures sure had me fooled. The Donkey's are simple and fun. Their lyrics are honest and realistic. "Come on Virginia" may be the summer's anthem - perfect San Diego folk if there is such a thing. "Lower the Heavans" is the most accessible instrumental I've heard in along time. Just make it to the 1:07 mark for me. And finally "Walk Through A Cloud" hums along like an amped up hymn. Go for it...

-mp3-

The Donkeys

- Come on Virginia (Download it! Come on San Diego, Do It!)
-mp3-

The Donkeys

- Lower the Heavans
-mp3-

The Donkeys

- Walk Through A Cloud

Check out their recent Daytrotter session (once they get the site fixed!)
The Donkeys on Myspace