happy birfday to you...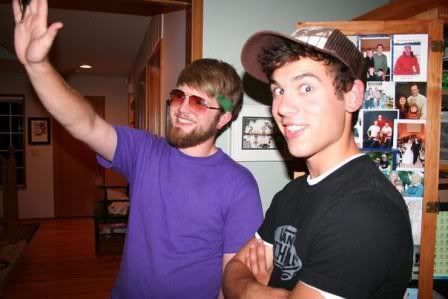 So today is Joe's birthday(the one on the left, another peter, not me, is on the right ...hi petooor). And being one of the two primary members here at RMDS, I find it appropriate to show him some love on his bday as he ventures into life outside of the "teens."

So enjoy the picture. Enjoy the birthday songs, and leave Joe some love in the comments.

-mp3-

Sufjan Stevens

- Happy Birthday
-mp3-

Andrew Bird

- The Happy Birthday Song




also

, asides from Joe's birthday we have some really exciting things going on at Renaissance Men. We are most likely going to have another memeber join us on board soon which is going to increase the musical goodness here ten fold. More news on that to come. We also have some neat posts lined up along with a grip load of cocnerts in the near future. Siq. We look forward to your continued readership...

....happpppy birfday to youuuu.




*update*

joe's friend rachel took this photo. its very artistic. thank you dear.


*update*

apparently i very rudely mispelled the aeformentioned photographer's name. i'm very sorry rachael. i even hyperlinked ur name this time. that should make things right. k? thanks!