Clipse - "Trill"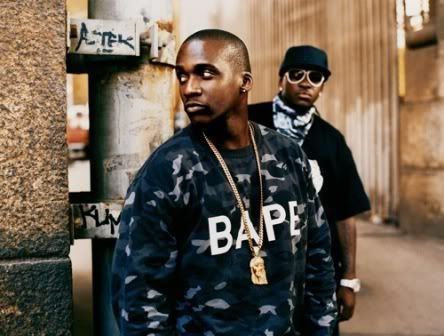 I have never got excited about a hip hop or rap release.

Ever

. Sure, I have those random mp3's scattered across my iTunes that you will hear at a club, but I've never been an enthusiast of the genre, not even in the slightest bit. Until now, that is.

See, I heard the buzz bubbling around

Clipse's

prolonged release

Hell Hath No Fury

. I heard little bits here, and little bits there about how good this album was going to be. The only hip hop blog I read, Cocaine and Blunts, rated this album way back in 2005 as his second most anticipated album of all of 2006 and Gorilla vs. Bear steadily sung it's praises. And then a couple a days ago Pitchfork wrote a track review on one of the songs on the forthcoming LP and I finally broke. The write-up made me gitty (in the most gangster way possible, that is) and I just couldn't resist getting my hands on this album. Luckily, what I soon discovered on my own, aligned directly with the hype and I couldn't be happier. Enjoy:

-mp3-

Clipse

- Trill
I don't know enough about hip hop to even come close to writing a good track write-up, so I am going to go ahead and once again direct you to that Pitchfork write-up which got me hyped on all this whole Clipse thing to begin with. I will say in my ignorance, though, that this is one of the illest beats I've ever heard, fronted by some equally incredible dark lyrics. This is gansta s*%t people. "Bitch I'm so trill..."

Bonus track: an extra sweet mash-up of another song you'll find on the LP...
-mp3-

Clipse vs. CYHSY

- Clap Your Hands Say Wamp Wamp

This album hits stores November 28!

Go buy it

. If it can give my view on the hip hop genre a full 360, you're sure to be able to find at least something you like:


**Buy Hell Hath No Fury**
Clipse: Website / Myspace / More MP3's

-----------------------------------------------------------------

I am heading home to Colorado tomorrow for Thanksgiving Break! I'm pretty sure I will still continue posting amidst all the yams and tryptophan though, so stick around and have a nice Holiday week.